Create A New Corporate Account
Commute can be easy – create a Corporate Account for yourself and your entire team.
Your future business endeavors can be accompanied by your reliable and swift transportation partner. Reach the destination of your next seminar in style, arrive at your desired location in a black car nearby and leave your associates in awe. For the most affordable rates on the market, you could bask in a back seat of a limo while dependable driver minds the road. Our helpful customer care representatives are aware of your filled-up schedules and won't waste a second of your valuable time when arranging your ride. Sit back, check your papers one more time and attend your meeting refreshed.
Take care of business while
we take care of you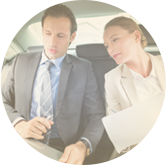 Business Trips
Your employees are travelling to Chicago, and you want to make sure they get where they need to be, on time? Swift Cars lets you create an agenda in advance and schedule all pickups and drop-offs. No need to waste time on hailing cabs, or risk getting lost in the city.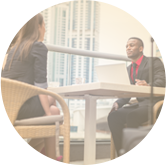 Meetings
If you have back to back meetings and a very tight schedule, book a Swift Cars black car service and rest assured we will get you to each and every one of them. No matter if the meetings are across town or you are unfamiliar with the area, we have the right transportation solution.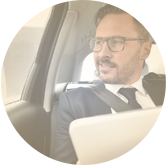 Daily Commute
Treat yourself or your employees with an affordable car service to and from the office – every day. It's easy to manage your corporate account, track expenses and use the detailed reports to the full extent. Make an everyday ride to work an enjoyable experience.
SET UP YOUR ACCOUNT
SwiftCars – Your Company's Private Driver
Swift Cars offers corporate car service and business travel Arrangements. Based in major business hubs in the USA, we operate in San Diego, Los Angeles, Chicago and San Francisco. No matter whether you are a small business or a high-volume client, Swift Cars provides the best corporate black car service near you.
Convenient Booking

At the office, or already on the go – book a Swift Cars service with a couple of clicks or one phone call. You can also track your driver on the map, and you will receive a notification upon his arrival at the destination.
Corporate Accounts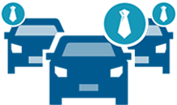 Solve a ground transportation issue with a single corporate account. Add as many employees as you want, and easily track their transportation expenses and routes. Gain useful insight with detailed reporting feature.
Free Mobile App

Download our free mobile app, add your account and next time you need a ride, just tap on the screen. A vehicle will be headed toward you in an instant. Mobile app stores your account data to make the booking more convenient.
Transparent Pricing

No hidden fees, surcharges, or nasty surprises at the end of the ride. Every fare is calculated through a special, wallet-friendly formula, and you can easily see the exact cost of the ride. Get a free, quick quote in an instant.
APPLY FOR A CORPORATE ACCOUNT
Explore Our
Fleet
Economy Sedan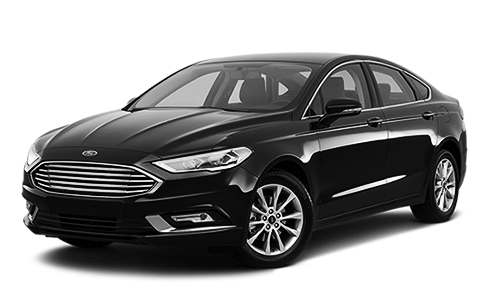 Passengers: 3
Luggage: 3
The standard vehicle for corporate and frequent travelers. This affordable, economy black car comes with plenty of room for your comfort.