Book a ride with just a couple of taps – It's that simple.
Swift Cars mobile app is coming soon for iOS or Android and you will be able to reach every corner of LA, San Diego, San Francisco and Chicago. Manage your own account, profile and credit card information – no cash exchanging hands. You can always review your current and previous bookings, and check the Fare Quote on the go.
Swift Cars Mobile App
Booking a reliable and affordable car service will be so easy – right on your palm, with Swift Cars Mobile App.

"Pick Me Up" Functionality
The app instantly finds your location and allows you to immediately book a car with a simple tap on the screen.
Track Your Driver
Know where your driver is at all times. Track the vehicle on a mobile app while it's en route to pick you up.

Transparent Pricing
What you see on the app is what you pay. No hidden fees, no surcharges, no surprises at the end of the ride.

On-time Guarantee
Get wherever you need to be – on time every time. It's a Swift Cars guarantee!

Book on the Go
No matter where you are, you can book a ride with just a few taps on your mobile screen. Couple of seconds is all it takes.

Account Setup
Manage your entire account, credit cards, scheduled and previous rides for you, your entire family or your employees.
Swift Cars easy to use mobile app allows you to book an Airport Pickup in advance. Swift Cars has the necessary flight tracking technology to monitor your flight and the exact time of your arrival. When you book with us, you don't need to worry about your ground transportation – your assigned vehicle will be there when you land.
Schedule an Airport Pickup with ease – provide us with your flight information and just enjoy the ride.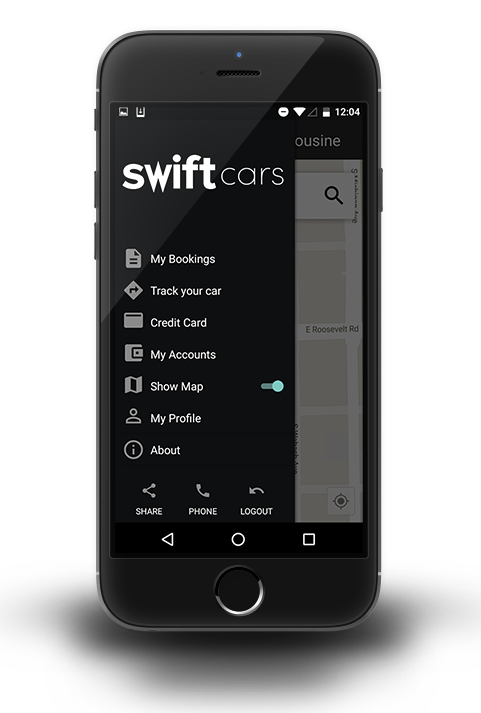 My Bookings


Review your current and previous bookings.

Map


Track your driver on the map or send a car to your location with a single tap.

Credit Card


Manage your credit card information.

Accounts


Manage all your accounts – for employees or family members.

Profile


Keep your profile information up to date.